(1) Rishi Sunak will be Britain's next prime minister after Liz Truss' resignation:-
 Former finance minister Rishi Sunak won the race to prime minister Monday, the first British Asian to assume the role and the third leader in seven weeks of a country roiled by political and economic chaos.
Sunak will become the latest leader of the ruling Conservative Party to enter the revolving door of No. 10 Downing St., following Truss' resignation just 44 days after taking office. Her scandal-plagued predecessor, Boris Johnson, dropped his bid for a comeback Sunday.
In his first public statement after the results were announced, Sunak said the country faces a "profound economic challenge."
He pledged to work for "stability and unity" and said he would make it his "utmost priority" to unite the party and the country.
Sunak's victory was confirmed after his only other challenger, Penny Mordaunt, failed to secure the support of enough of her fellow lawmakers before the deadline.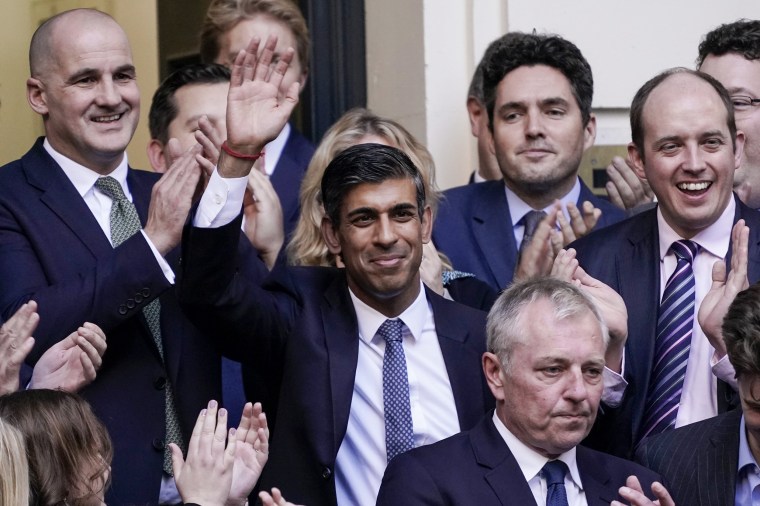 "Rishi Sunak is therefore elected as leader of the Conservative Party," Graham Brady, the Conservative lawmaker who oversees the party's leadership elections, told his colleagues, who banged on tables and cheered at the announcement.
Sunak, who at 42 is set to be the youngest prime minister in more than 200 years, will now be invited to form a government by King Charles III, a ceremonial duty the country's new monarch will carry out for the first time.
A multimillionaire former banker, Sunak was not elected by the United Kingdom's 67 million people but rather appointed by lawmakers from the Conservative Party, which is recording laws after a decade of austerity and 18 months of controversy and division.
This is the party's second leadership contest in two months. In the first, Sunak was the clear favorite until Truss' late surge saw her elected by the party's nearly 200,000 paying members, mostly white, wealthy, and male, and tended to lean to the right of the British political center.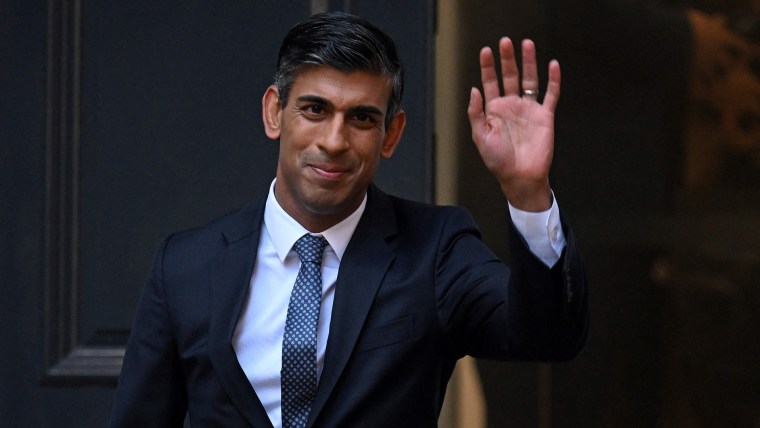 This time, those members didn't have a say because Sunak was the only candidate to get the requisite support of 100 lawmakers to reach a potential runoff.
Johnson claimed he could have reached this threshold, and he may well have won a wider vote among the membership. But doing so would have strained a party to the breaking point, so unpopular is Johnson in Parliament. Sunak's other challenger, Mordaunt, announced minutes before the 9 a.m. ET deadline that she, too, had failed to gather enough support. "Rishi has my full support," she said in a statement.
The son of African-born Hindus of Indian descent, Sunak will be the country's second ethnic minority leader, after Prime Minister Benjamin Disraeli in the 1800s, who was of Jewish descent but a practicing Christian. Sunak won the leadership contest on Diwali, the Hindu Festival of Lights.
Born in the southern port city of Southampton, Sunak became the member of Parliament for Richmond in the northern region of Yorkshire in 2015. His rapid rise through the ranks with a slick social media operation and popular measures alleviating economic pressure during the pandemic.
"The United Kingdom is a great country, but we face a profound economic crisis," Sunak said Sunday, his only public comments during the latest leadership contest. "I want to fix our economy, unite our party and deliver for our country."
As he takes the helm during a domestic economic crisis, it will be a herculean effort. At the same time, Britain anxiously tried to find its place in the world after it departed from the European Union.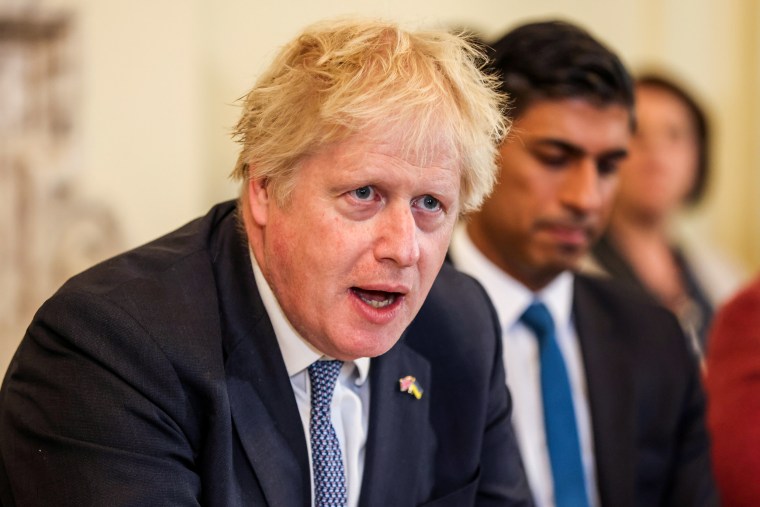 He will hope that Monday's coronation will help to unite his fractured party, whose wings span culture-warrior free-marketeers to liberal centrists who would not look out of place in the American Democratic party.
Even tougher will bring economic calm and stability, as Britain faces a financial crisis already forcing some people to go hungry and a painful recession with no obvious solution.
Truss' short tenure fueled a cry, with markets now expecting the government to cut spending and increase taxes. Sunak has not said what his policies will be but has been a longtime advocate of budgetary restraint.
A teetotaler and whip-smart, Sunak is seen by many within the party as a technocratic, stabilizing influence following the mayhem of the Johnson-Truss era. During his leadership election with Truss last month, he warned that many tax-cutting policies would bring down the economy  — and he was right.
Though Johnson ultimately chose not to fight this contest, it is the latest flashpoint between two men who have become fierce rivals after having served at the top of government together just a few months ago.
Sunak was Johnson's finance minister, the second most powerful position in government. But after another scandal emerged, raising questions about Johnson's relationship to the truth, Sunak resigned and ultimately helped bring down his then-boss.
And while Sunak is not as synonymous with the revelations about boozy lockdown-busting parties as Johnson, police found that he, too, had broken the law over the "party game" affair and issued him a fine.
Earlier this year, he and his wife, Akshata Murthy, 42, came under intense criticism after she had paid a million less in taxes because she legally claimed "nondomicile" status in the U.K., meaning she was treated as foreign-based for tax reasons.
Though Sunak is a former banker, it's through his wife's father, the Indian software tycoon NR Narayana Murthy, that the couple sits on an estimated 730 million-pound fortune ($825 million) — making the couple richer than the king and Camila, the queen consort.
(2) Myanmar military airstrikes kill about 50, Kachin rebels say:-
Dozens of people have reportedly been killed in military airstrikes at a celebratory event in Mynamar's mountainous Kachin state on Sunday, drawing international condemnation of the junta that seized power in the country more than a year and a half ago.
Victims had been attending an event organized by the Kachin Independence Army (KIA) to mark the 62nd anniversary of the armed ethnic rebel group's political wing, the Kachin Independence Organization (KIO), KIO General Secretary La Nan said on Tuesday.
La Nan said both men and women were among about 50 people killed, though no children have been identified among the victims yet. Another 54 are injured, many with burns and shrapnel wounds.
CNN and NBC cannot independently verify the number of reported deaths.
La Nan said the event included musical performances and was one of the group's most significant annual festivities, with "hundreds, if not thousands" in attendance, including artists, business owners, and elders. Many had traveled from across the state to attend, he said.
"We understand the intention of (the airstrikes) was largely to inflict chaos and massive pain to the public, in a large volume and with as much damage as they could," La Nan said.
The military junta, which overthrew the government in a bloody coup last February, claimed Monday that reports of civilian deaths from the airstrikes were "fake news."
It claimed the airstrikes had targeted the KIA's military base in response to the group's earlier raids and attacks on passenger vessels along the Irrawaddy River. It also claimed it had followed international conventions "to ensure peace and stability of the region."
La Nan refuted the junta's claim, saying the celebration had been held in the A Nang Pa region – a small area where travelers often stop by a market. It's "nowhere close to military installations," he said.
Though KIO personnel were in attendance, "they were not there as military personnel but as entertainers," helping welcome guests and performing, he added.
Since the coup, rights groups and observers say freedoms and rights in Myanmar have deteriorated; state executions have returned, and the number of documented violent attacks by the army on schools has surged.
Numerous groups have emerged, while millions of others continue resisting the rule through strikes, boycotts, and other forms of civil disobedience.
Myanmar's shadow government, the National Unity Government – a group of ousted lawmakers, coup opponents, and ethnic minority group representatives – condemned the attack in a statement on Monday, saying the military had "deliberately committed another mass killing."
The attack "clearly violates international laws as the provisions of the Geneva Conventions," it said in the statement, urging the international community and United Nations to "take effective actions urgently."
The NUG operates undercover or through members abroad, seeking recognition as Myanmar's legitimate government.
(3) Xi tightens grip on power as China unveils new leaders:-
Chinese leader Xi Jinping has formally stepped into his third term ruling China with an iron grip on power, as he revealed a new leadership team stacked with loyal allies.
Here's what you need to know:
The new A-team: Xi announced six men — Li Qiang, Zhao Leji, Wang Huning, Cai Qi, Ding Xuexiang, and Li Xi — to stand alongside him as members of the Politburo Standing Committee, China's top ruling body. They are all staunch Xi loyalists — clearing the path for him to rule with minimal internal discord or opposition.
All-male Politburo lineup: Xi also revealed the new 24-member Politburo, which for the first time in at least 25 years includes no women – highlighting the stark lack of female representation in the Communist Party's leadership.
Officials removed: Two names raised eyebrows for their conspicuous absence. Hu Chunhua, one of China's vice premiers, was once widely viewed as a candidate for top leadership — but the 59-year-old is no longer listed as a Politburo member. Meanwhile, former Xinjiang party secretary Chen Quanguo is also missing from the Central Committee roster.
No clear successors: Standing Committee lineups before the Xi era have included younger members as potential successors for the top leader. But with the youngest member at 60 years old this time, there's no stand-out name in the mix – a potential sign Xi is not planning to step down anytime soon.
Fallout over Hu Jintao: The 79-year-old former leader was unexpectedly led out of the room during yesterday's closing ceremony of the Party Congress, seeming initially reluctant to leave. State-run news agency Xinhua later said on its English-language Twitter — blocked in China — that Hu had been removed for "health" reasons, though many experts have voiced doubt. The incident has not been reported in state-run Chinese-language media or discussed on Chinese social media, where such conversation is highly restricted.