(1) FIFA world cup kicks off in Qatar:-
DOHA, Qatar — The 2022 world cup kicks off Sunday, shrouded in accusations of human rights violations and last-minute controversy surrounding host Qatar.
A million supporters worldwide will descend on the small but wealthy Gulf nation to watch stars from 32 countries face off over the next four weeks in the men's soccer tournament, the world's second-largest sporting event after the Olympics.
The time of year and location — this is the first World Cup to take place in the Middle East — meant the event had long promised to be unlike any other before it. Still, Friday's news that alcohol will be banned from stadium perimeters highlighted the cultural clash of the conservative emirate hosting a global party.
World Cup teams and activists have also voiced concerns for residents and visiting fans after years of buildup to this year's tournament, dominated by criticism of Qatar's treatment of migrant workers and LGBTQ people.
The tiny, energy-rich nation's ruling family and FIFA organizers will hope those issues fade away once the action starts. In a bizarre news conference on the eve of the tournament, Gianni Infantino, the head of FIFA, soccer's international governing body, accused the host's critics of hypocrisy.
Qatar plays Ecuador at 11 a.m. ET Sunday in the opener, with the United States playing its first game against Wales at 2 p.m. ET Monday.
"It's hard to describe for me," U.S. Men's National Team goalkeeper Matt Turner told NBC News. "It's one of the greatest honors in my life," said Turner, who also plays for English Premier League leaders Arsenal.
While the U.S. is not expected to take home the trophy, Americans have flocked to Qatar — the U.S. is among the countries that have purchased the highest number of the nearly 3 million tickets sold.
"I think we're going to take it all the way," a bullish Dayton Kendrick, a Houston native who lives in Doha, said of the U.S. team. "It's going to be a force to reckon with."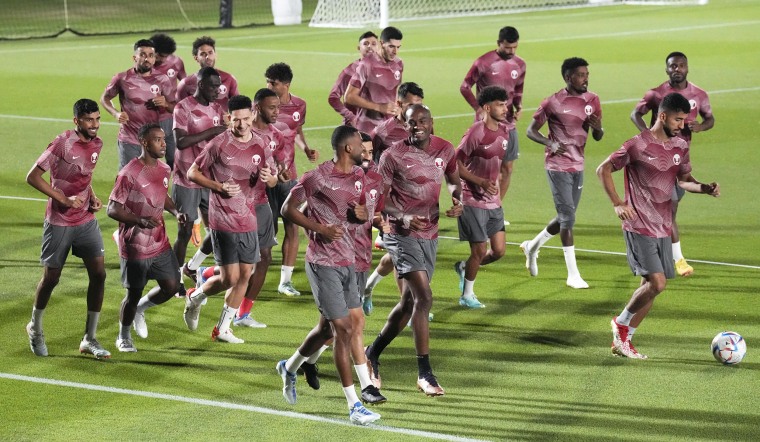 The U.S. failed to qualify for the last World Cup but now boasts a young, exciting squad who largely play for big teams across Europe. It will also face England and Iran in Group B over the next two weeks before the tournament's knockout rounds commence. England is among the favorites, alongside Brazil, France, and Argentina.
Kendrick is one of many ex-pats who have made Qatar home in recent years as it transformed into a modern hub playing an outsize role on the global stage. Qataris number around 350,000, though the conservative Muslim nation is home to around 3 million people from 90 countries.
To the surprise of many, the country spent more than $200 billion to modernize in the 12 years since it was awarded the World Cup, building brand new stadiums and hotels to accommodate the onslaught of fans and players. Teams will play 64 games in eight stadiums across Qatar, smaller than Connecticut.
Over the past decade of rapid development, building often done in the sweltering heat by migrant laborers from countries like Nepal and India, Qatar has faced criticism and calls for significant reforms of how it treats those workers.
Human rights groups had failed to investigate thousands of migrant deaths over the past decade, some before World Cup projects began, suggesting that some deaths were linked to unsafe working conditions. Qatar has acted to improve the system, the group has said.
"There have been historical abuses of the last 10 years," said human Amnesty researcher May Romanos. "Be it those who died, be it those who are injured, be it those who lost their wages to construct and prepare Qatar to deliver on this World Cup."
"This World Cup could shed light on the situation and push the government and department to introduce those changes," she added.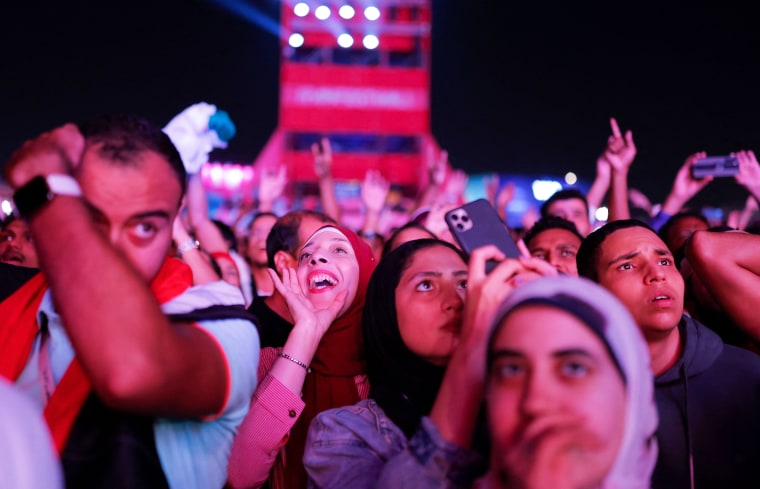 Human rights organizations also criticized Qatar, where same-sex relationships are illegal, for its oppression of LGBTQ people. Some LGBTQ soccer fans have decided against traveling to Qatar, with authorities maintaining that all fans are welcome but that visitors should respect the nation's culture, in which public displays of affection by anyone are frowned upon.
"For the fans themselves that are going to Qatar, the message for them right now is to honestly just watch out for their safety," said Dr. Nas Mohamed, the first-known Qatari to publicly come out as gay. He is applying for asylum in the U.S.
The Qatari government has not responded to NBC News' requests for comment. A previous statement said it is "committed to engaging collaboratively and constructively … further to improve standards for all migrant workers in Qatar."
In a statement to The Associated Press about the treatment of LGBTQ people, the Qatar government said it "does not tolerate discrimination against anyone."
Infantino, the FIFA chief, accused Western countries of trying to apply a "one-sided moral lesson" with the criticism.
"I am European. For what we have been doing for 3,000 years around the world, we should be apologizing for the next 3,000 years before giving moral lessons," he said, adding that "many things are not perfect, but reform and change take time."
Time has not eased criticism of the previous World Cup hosts, Russia, but FIFA and Qatar will hope the next four weeks are more about soccer than politics.
(2) New measures for size, as the world's people surpass 8 billion:-
What is bigger: A Ronna or a Quetta?
Scientists meeting outside of Paris on Friday — who have expanded the world's measuring unit systems for the first time this century as the global population surges past 8 billion — have the answer.
Rapid scientific advances and vast worldwide data storage on the web, in smartphones, and the cloud mean that the terms used to measure things in weight and size also need an extension. And one British scientist led the push Friday to incorporate bold new, tongue-twisting prefixes on the gigantic and even the minuscule scale.
"Most people are familiar with prefixes like milli- as in milligram. But these are prefixes for the biggest and smallest levels ever measured," Dr. Richard Brown, head of Metrology at the U.K.'s National Physical Laboratory who proposed the four new prefixes, told The Associated Press.
"In the last 30 years, the atmosphere has increased exponentially, and data scientists have realized they will no longer have words to describe the storage levels. These terms are upcoming, the future," he explained.
There's the gargantuan "Ronna" (that's 27 zeros after the one) and its big brother, the "Quetta" — (that's 30 zeros).
Their ant-sized counterparts are the "ronto" (27 zeros after the decimal point) and the "quecto" (with 30 zeros after the decimal point) — representing the smaller numbers needed for quantum science and particle physics.
Brown presented the new prefixes to officials from 64 nations attending the General Conference on Weights and Measures in Versailles, outside of Paris — who approved them on Friday.
The conference, which takes place every four years in France, is the supreme authority of the International Bureau of Weights and Measures. The new terms take effect immediately, marking the first time since 1991 that any new additions have been made.
Brown said the new terms also make it easier to describe things scientists already know about — reeling off a list of the smallest and biggest things discovered by humankind.
Did you know that the mass of an electron is one monogram? And that a byte of data on a mobile increases the phone's mass by one Ectogram?
Further from home, the planet Jupiter is two just quettagrams in mass. While, incredibly, "the diameter of the entire universe is just one ronnameter," Brown said.
He explained how the new names were not chosen randomly: The first letter of the new prefixes had to be one not used in other prefixes and units.
"There were only the letters 'r' and 'q' that weren't already taken. Following that, there's a precedent that they sound similar to Greek letters and that big number prefixes end with an 'a' and smaller numbers with an 'o,'" he added.
"It was high time. (We) need new words as things expand," Brown said. "The world has become a very different place in just a few decades."
(3) Elon Musk reinstates former President Donald Trump's Twitter account:-
SAN FRANCISCO — Twitter's new owner, Elon Musk, announced that he was reinstating former President Donald Trump to the social media platform, nearly two years after the company banned him, citing his role in the Jan. 6 riot at the U.S. Capitol.
The platform's CEO announced the decision Saturday evening after allowing his Twitter followers and others to vote on whether to unban the former president's account, with nearly 52% of those weighing favoring Trump's return. The Twitter poll logged more than 15 million votes.
"The people have spoken," Musk tweeted Saturday evening. "Trump will be reinstated."
Trump's account returned shortly afterward.
Previous tweets from Trump's account were viewable after its reinstatement. When he posted that he would not attend Joe Biden's inauguration.
Musk's decision is easily his most anticipated one since he took control of Twitter on Oct. 27. It comes four days after Trump announced his run for president in 2024.
Trump had 88.8 million Twitter followers when the company banned him.
The move signals a new direction for Twitter, which has pivoted from embracing all-out free speech to taking more aggressive action on abuse, harassment, misinformation, and calls for violence in recent years. Musk has said he will loosen rules, although he tweeted shortly after the takeover that the platform "obviously cannot become a free-for-all hellscape. …"
Trump's return also comes at a time of heightened expectations that he and other Republicans are set to renew misleading or false claims of election fraud, which Trump routinely tweeted before he lost his account. The decision to welcome Trump back carries risk for Musk, putting him in a position to be blamed for Trump's future behavior and any potential calls to violence.
It wasn't immediately clear how often Trump might use his old account. He told Fox News in April that even if Musk succeeded in buying Twitter, he would not go back and would instead stay on his social media app, Truth Social.
Earlier Saturday, Musk's Twitter poll was still active; the former president said, "Vote now with positivity but don't worry, we aren't going anywhere. Truth Social is special!"
The former president made a virtual appearance Saturday at the Republican Jewish Coalition Annual Leadership Meeting in Las Vegas, reiterating his resistance to using Twitter.
"Truth Social has been very, very powerful," Trump said. "And I'll be staying there. But I hear we're getting a big vote also to go back on Twitter. I don't see it because I don't see any reason for it."
Trump remains suspended from other major online platforms, including Facebook, Instagram, and YouTube.
According to Bloomberg News, musk, the world's wealthiest person, had forecast the invitation for Trump to return in May, a month after he offered to buy Twitter when he called the expulsion "morally wrong and flat-out stupid."
Twitter users have fiercely debated Trump's absence. He repeatedly tested the limits of Twitter's rules over the years, and in 2018 the company carved out an expansion to ensure "world leaders" could largely do as they pleased without getting banned. On the other hand, Trump is the Republican Party's chief figure, and his absence from Twitter has meant the service doesn't accurately mirror the reality of U.S. politics.
Musk fell into the second camp.
"I think permabans just fundamentally undermine trust in Twitter as a town square where everyone can voice their opinion," he said at a Financial Times conference in May.
Soon after his takeover of Twitter on the evening of Oct. 27, Musk tried to assure followers and advertisers that his decision on Trump would be carefully measured.
"Twitter will be forming a content moderation council with widely diverse viewpoints," Musk tweeted on Oct. 28. "No major content decisions or account reinstatements will happen before that council convenes."
Twitter and most of the tech industry locked Trump's account during the violence of Jan. 6, 2021, saying he had broken their terms of service and posed a threat to public safety.
In one provocation, Trump tweeted that afternoon that "Mike Pence didn't dare to do what should have been done to protect our Country and our Constitution" and "USA demands the truth!" The tweet came just minutes after his supporters had breached the Capitol doors.
Twitter interpreted those statements and others as violations of its "civic integrity policy," and it announced Trumps suspension at 7:02 p.m. ET on Jan. 6:
"If the Tweets are not removed, the account will remain locked. … Future violations of the Twitter Rules, including our Civic Integrity or Violent Threats policies, will permanently suspend the @realDonaldTrump account."
The San Francisco-based company announced two days later, on Jan. 8, that it was making Trump's account permanent. Twitter co-founder Jack Dorsey, then the company's CEO, later defended the decision by citing the possibility of offline harm.
"After a clear warning we'd take this action, we decided with the best information we had based on threats to physical safety both on and off Twitter," Dorsey said then.
At the time, one consideration was that Trump might use social media during his final two weeks in office to continue to spark violence. This danger alarmed even many free-speech advocates.
Twitter and Trump fed off each other for years before the ban. Twitter gave Trump easy access to millions of people and a largely free pass to violate its rules. At the same time, Trump brought constant attention to a service often overshadowed by larger platforms such as Instagram and YouTube.
Twitter, founded in 2006, had its profitable order in late 2017 while Trump was president.
Meta, the parent company of Facebook and Instagram, has left open the possibility of letting Trump back on as soon as Jan. 7, two years after it suspended him. The company said it would look to experts "to assess whether the risk to public safety has receded."
"If we determine that there is still a serious risk to public safety, we will extend the restriction for a set period and continue to re-evaluate until that risk has receded," Nick Clegg, the company's vice president of global affairs, said in a blog post last year.
Clegg's statement came after the Oversight Board, a quasi-independent body funded by Meta, criticized the idea of an open-ended suspension.
Susan Wojcicki, the CEO of Google subsidiary YouTube, has said the video site would lift its suspension of Trump "when we determine that the risk of violence has decreased."