Ukraine war: Biden says nuclear risk highest since 1962 Cuban Missile Crisis:-
US President Joe Biden has said the world is facing the biggest nuclear "Armageddon" threat since President Kennedy and the Cuban Missile Crisis.
Speaking at a Democratic Party fundraiser in New York, journalists from the White House pool overheard his 'off camera' comments.
It comes as Russian officials warned of the possibility of using tactical nuclear weapons after suffering huge military setbacks in the invasion of Ukraine.
Describing Russian President Vladimir Putin, Biden said he had "got to know the guy pretty well."
"He's not joking when he talks about the use of tactical nuclear or biological or chemical weapons because his military is, you might say, significantly underperforming."
And he made clear his concerns that if such weapons were deployed, it would quickly escalate into world nuclear conflict.
"First time since the Cuban missile crisis, we have a direct threat of the use nuclear weapon if things continue down the path they are going," he said.
"I'm trying to figure out what is Putin's off-ramp?" he said. "Where does he find a way out? Where does he find himself in a position where he not only loses face but loses significant power within Russia?
"We have not faced the prospect of Armageddon since Kennedy and the Cuban missile crisis."
He added: "I don't think there's any such thing as the ability to easily (use) a tactical nuclear weapon and not end up with Armageddon."
During the 1962 crisis, the United States under President John Kennedy and the Soviet Union under Nikita Kruschev came close to using nuclear weapons over the presence of Soviet missiles in Cuba.
WHAT WAS THE CUBAN MISSILE CRISIS?
The Cuban Missile Crisis is the closest the world has ever come to nuclear annihilation.
The 13-day showdown in 1962 came after the US discovered the Soviet Union had secretly deployed nuclear weapons to Cuba.
Responding to the presence of American ballistic missiles in Italy and Turkey, as well as the failed Bay of Pigs Invasion of Cuba in 1961, Soviet leader Nikita Kruschev agreed to place missiles on the island.
In response, then-US president John F Kennedy ordered a naval quarantine of the island to prevent further missiles from being delivered.
After several days of tension, Mr. Kennedy and Mr. Kruschev reached an agreement for the Soviet Union to dismantle their weapons in Cuba in exchange for Mr. Kennedy to declare the US would not invade Cuba again.
The US also secretly agreed to dismantle all of its medium-range ballistic missiles in Turkey.
It also resulted in the establishment of the Moscow-Washington hotline to allow direct communication between the two superpowers.
US officials have warned for the last few months about the prospect of Russia using weapons of mass destruction in Ukraine after numerous strategic setbacks on the battlefield.
Mr. Putin has repeatedly alluded to using his country's vast nuclear arsenal.
Last month, when he announced plans to conscript Russian men to serve in Ukraine, he said: "I want to remind you that our country also has various means of destruction … and when the territorial integrity of our country is threatened, to protect Russia and our people, we will certainly use all the means at our disposal."
With a lingering stare at the camera, he added: "It's not a bluff."
On Thursday, Ukrainian President Volodymyr Zelenskyy said Mr. Putin understood the "world will never forgive" a Russian nuclear strike.
"He understands that after the use of nuclear weapons, he would be unable anymore to preserve, so to speak, his life, and I'm confident of that," Mr. Zelenskyy said.
2. Thailand is mourning a horrific gun and knife attack at a childcare center in the northeast that left 37 people, including 23 children, dead.
Parents gathered outside the center on Friday morning, weeping and clutching their children's toys.
A former policeman had stormed the building on Thursday, killing children as young as two as they slept.
Flags across Thailand are flying half-mast as a devastated nation grapples with the tragedy.
Police say the 34-year-old attacker killed himself and his family after a manhunt. The motive for the attack is not yet known. But police said the attacker was fired from his job in June for drug use.
Prime Minister Prayuth Chan-Ocha, Thailand's King Maha Vajiralongkorn, and the Queen are expected to visit the community in Nong Bua Lamphu province later on Friday.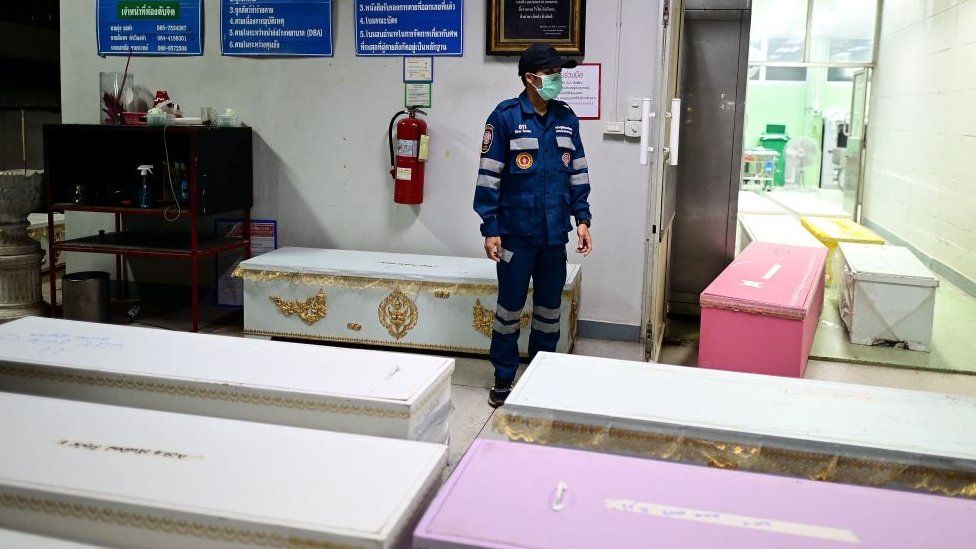 Overnight, pink and white coffins adorned with gold, bearing the bodies of the children, were brought to a hospital morgue in Udon Thani and laid out in rows.
Rescue workers had earlier brought the victims' bodies to the police station, where families of the dead had gathered. Distraught relatives had also waited outside the daycare center well into the night.
'I don't know what to do next.
Police said the armed attacker broke into the building just after lunchtime on Thursday, shooting his way past a teacher and parent outside.
Witnesses said he first shot staff – including a teacher who was eight months pregnant- before forcing his way past teachers into a room where children were napping.
Police said he stabbed most of his victims before fleeing.
Headteacher Nanticha Panchum told the BBC she had just sent the children off for their nap when she heard gunshots.
Usually, the center looked after 92 children on site, but because of poor weather and a bus breakdown, only 24 were there at the time.
"This is something I never dreamed of… I don't know what to do next. I can't think of anything at the moment," she told the BBC.
She said the attacker's son went to the center but hadn't been attending for a month. He was recognized by one of her colleagues when he burst in.
Soon after news of the attack emerged, Thai Police published an online manhunt appeal – identifying the man as Panya Kamran, a local man. He was a former officer who had been fired in June for drug use, police later said.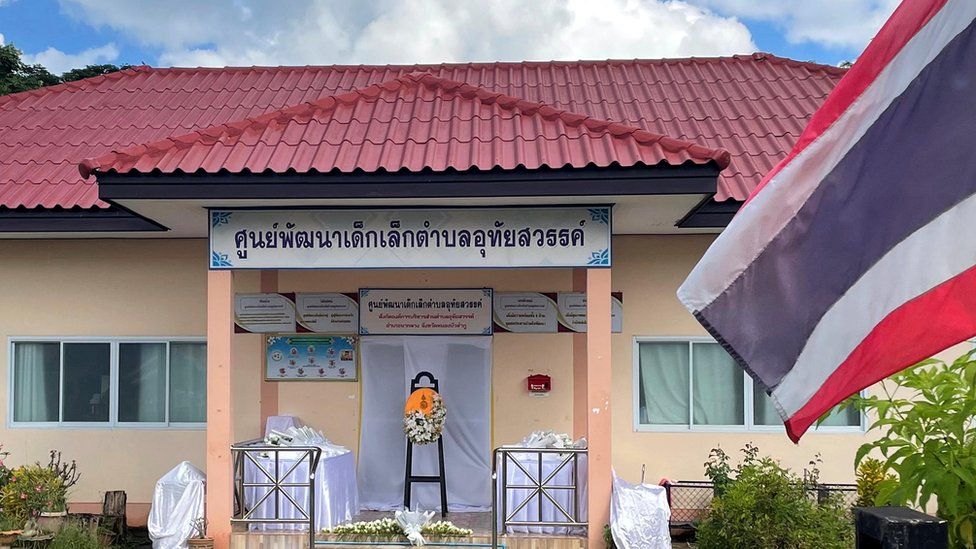 Officers who rushed to the nursery were confronted with the bodies of adults and children, some very young, lying inside and outside the building.
"We found that the perpetrator tried to break in, and he mainly used a knife to commit the crime by killing a number of small children," said Police Chief Damrongsak Kittiprapat.
"Then he got out and started killing anyone he met along the way with a gun or the knife until he got home.
"We surrounded the house and then found that he committed suicide in his home."
Police said Kamran returned home, killing his wife and son before taking his own life.
He had appeared in court on charges related to the use and possible sale of methamphetamine on the morning of the attack. He had been due to face a verdict on Friday.
Mass shootings in Thailand are rare, although the region has relatively high gun ownership rates. Illegal weapons are also common in the south-east Asian country, according to the Reuters news agency.
The nursery attack comes less than a month after an army officer shot two of his colleagues dead at a Bangkok base.
3. "Special Place In Hell": California Sheriff On Sikh Family Murder Suspect:-
Los Angeles, California:
"There's a special place in hell for this guy," the Sheriff of Merced County in California has said of the suspect who abducted four members of an Indian-origin Sikh family, including an eight-month-old baby girl, found dead in an orchard.
"There's a special place in hell for this guy," Warnke said of suspect Jesus Manuel Salgado.
"There are no words right now to describe the anger I feel and the senselessness of this incident," Merced County Sheriff Vern Warnke said on Wednesday night after authorities confirmed the death of four members of the family, who were missing since Monday.
"There's a special place in hell for this guy," Warnke said of suspect Jesus Manuel Salgado, who was convicted of armed robbery in 2005 and spent 11 years in prison.
The 48-year-old on Tuesday attempted suicide in the nearby town of Atwater after being arrested for the murder.
The sheriff said that while there is no evidence to indicate another person was involved, "I still think that we're by the time we get done here, we'll be able to tie in at least one other person." A farmworker called around 5.30 pm (local time) to report the bodies of the family, including an eight-month-old baby, whose abduction was captured on surveillance video.
Sheriff Warnke said detectives, when arrived at the spot, determined the remains were those of eight-month-old Aroohi Dheri; her mother Jasleen Kaur, 27; her father Jasdeep Singh, 36; and her uncle Amandeep Singh, 39, originally from Harsi Pind in Hoshiarpur, Punjab, were kidnapped from their newly-opened trucking business in Merced County, California, on Monday.
The suspect on Tuesday attempted suicide in the nearby town of Atwater after being arrested for the murder.
Warnke, refraining from providing much information citing the ongoing investigation, said that investigators had spoken with Salgado, convicted in 2005 of armed robbery, which involved false imprisonment.
The sheriff's office said the suspect's family contacted authorities reporting that Salgado had admitted to being involved in the kidnapping.
"The suspect has been talking off and on, based upon his condition. And we still have investigators with the suspect, and we are gleaning information from that," Warnke said, adding that the investigation was "now gearing towards putting this rotten son of a gun in prison."
"I can tell you that every time he has even come near consciousness, he has been violent," Warnke added, elaborating that doctors had sedated him as they did not want him "thrashing around."